Renting is the new buying!
At Jim Hay Estate Agents we are passionate about property and fully committed to offering the best possible service. Today, the property market is a little unstable with the current credit crunch, so it makes sense for us to offer another solution.
Have you thought about letting your property? Letting can generate an income, easily meet your mortgage repayments or could be the start of a property portfolio.
Susan our letting agent can offer two types of services for prospective landlords:
Introduction of a tenant and full management of services
Full property management gives the landlord peace of mind that every possible query or repair will be taken care of without causing worry or stress. This option offers the following services:
Rental assessment of the property
Advertising your property on our website, in our prominent office window and TV display unit as well as one advert within the local news publication (additional press adverts at an extra cost)
Erecting 'To Let' boards
Accompanied viewings
Finding a suitable tenant and credit check
Preparing an inventory for the property
Advisement of Council Tax and utility companies
Preparing the lease, inventory plus all additional paperwork
Checking in tenants and signing of the above
Collection of rent and deposits
Handling subsequent rent payments and forwarding them to your account
Annual gas and electricity safety checks
Organising extensions or alterations to the lease
Dealing with any repairs, arranging tradesmen
Checking out tenants at the end of the tenancy
The onus is on the landlord to take care of the tenants required needs. You must also ensure that your property has an up to date inventory and have met all safety legislation and take care of all the relevant paperwork.
Whatever option you choose this is imperative that when you become a landlord you register with the local authorities. This can be done online at www.landlordregistrationscotland.gov.uk with a 10% discount.
Guidance will be offered if necessary.
Health & Safety
Due to strict health and safety guidelines it is a legal requirement that every gas appliance and central heating system is inspected on an annual basis, again we can ensure that all certificates are kept in check Also, it is vitally important that your property is fitted with hard wired interlinked smoke alarms and carbon monoxide alarms. Electrcial safety certificates are also required by law as well as being a legal requirement it also offers peace of mind.
Deposits
We would generally advise that a deposit of one months rent is paid in advance. Deposits are hedl by a holding company such as Safe Deposit Scotland for the duration of the tenancy. Deposits are refundable at the end of a tenancy, providing the property and account is in order. Once a tenant has been checked out you are free to carry out an inspection of the property. We would recommend that an inspection be carried out shortly after the tenant vacates, if preferred we can inspect the property on your behalf.
Repairs
It is the landlord's responsibility to ensure that the property is well maintained and repairs are carried out quickly. As letting agents we will ensure that fully qualified tradesmen carry out required repairs. We will authorise minor repairs to the cost of £150, but larger repairs must be authorised by the Landlord.
The Landlord & Tenants Act 1985 states:
It is implied as a convenient in the tenancy agreement that the landlord is:
a) to keep in repair the structure and exterior of the dwelling (including it's drains and gutters and external pipes.
b) to keep in repair and proper working order the installations in the dwelling, for sanctions and for the supply of water, gas and electricity as well as those for space heating and heating water.
Mortgages
If your rental property is subject to a mortgage then the lender must be informed before the tenant moves in. The lender may request a copy of the lease if required we can forward this. The lender charge a small administration cost.
Insurance
As the landlord you are responsible for the building as well as the building's insurance. We will recommend to tenants that it would be advisable for them to have contents insurance for their belongings.
Please note that we would normally require two sets of keys for the property, the tenant will receive a set with the other being stored within our office for emergencies. The agreement that is signed does not cover periods when the property is empty.
We hope to ensure that you enjoy your letting experience.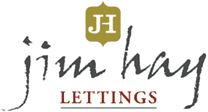 Contact Susan Hay Lettings Manager: susanlettings@jimhayestateagents.com